Hello dear friends, welcome to our site in the name of Jesus Christ. Today we will look at the Bible Scriptures About Weed In KJV. If you like today's post then definitely comment and share.
In the Bible, there's no direct mention of "weed," or marijuana, as we know it today. However, the scriptures provide us with insights about the stewardship of our bodies, minds, and spirits.
God crafted our bodies as temples of the Holy Spirit, giving us a responsibility to care for them. This includes avoiding substances that could harm or impair us. To indulge in anything that clouds our judgment or hinders our clarity might divert us from our paths of righteousness and love.
Additionally, the Bible encourages us to be self-controlled and alert, to maintain clear minds and pure hearts. While some might seek weed for relaxation or escape, it's crucial to remember that our ultimate peace comes from our connection with the divine, not from earthly substances.
Therefore, it's essential to approach this topic with prayerful consideration, seeking divine wisdom and guidance. Keep your intentions pure, consider the impact on yourself and others, and always remember that your body is a vessel for the divine spirit. Let these principles guide you as you navigate your path.
The Bible does not specifically mention marijuana or weed, but it provides principles that can guide us in making decisions about its use. Here are some passages that can provide guidance on this topic:
These passages highlight the importance of self-control, clear-mindedness, respect for the body, respect for the law, and consideration for others. Please read these verses in their context for a full understanding.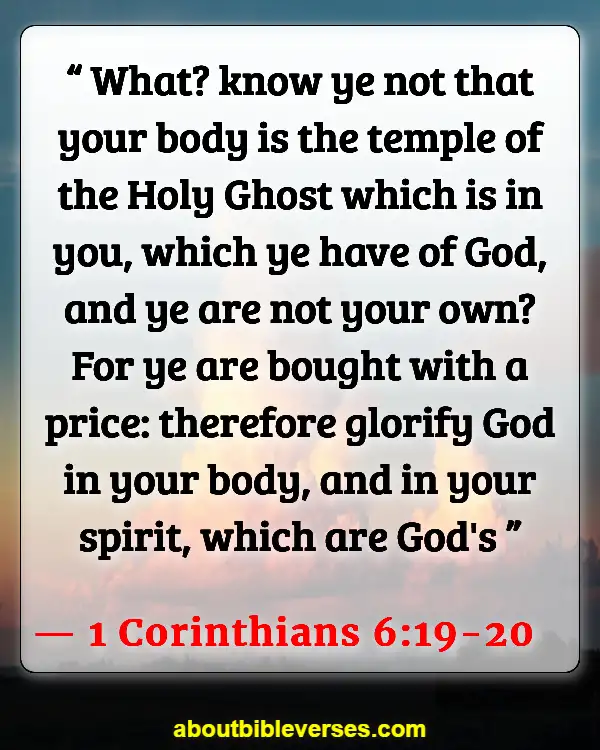 1 Corinthians 6:19-20
"What? know ye not that your body is the temple of the Holy Ghost which is in you, which ye have of God, and ye are not your own? For ye are bought with a price: therefore glorify God in your body, and in your spirit, which are God's"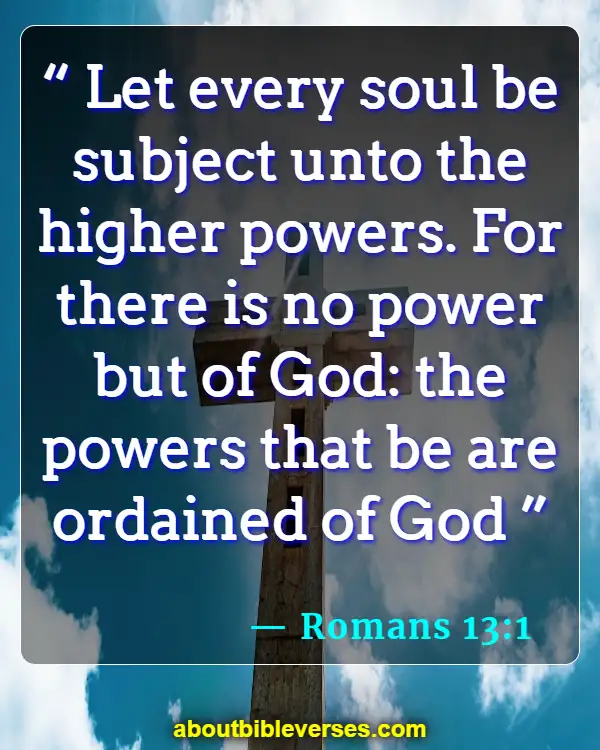 Romans 13:1
"Let every soul be subject unto the higher powers. For there is no power but of God: the powers that be are ordained of God"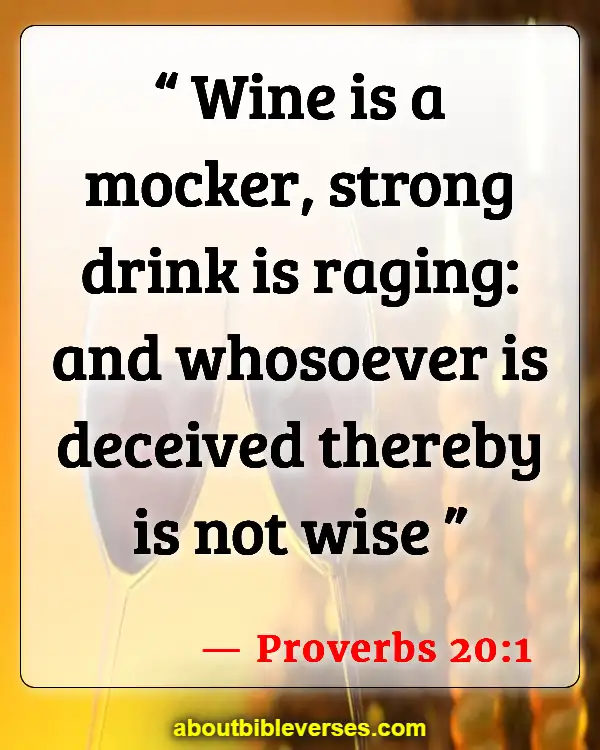 Proverbs 20:1
"Wine is a mocker, strong drink is raging: and whosoever is deceived thereby is not wise"
Galatians 5:19-21
"Now the works of the flesh are manifest, which are these; Adultery, fornication, uncleanness, lasciviousness, Idolatry, witchcraft, hatred, variance, emulations, wrath, strife, seditions, heresies, Envyings, murders, drunkenness, revellings, and such like: of the which I tell you before, as I have also told you in time past, that they which do such things shall not inherit the kingdom of God"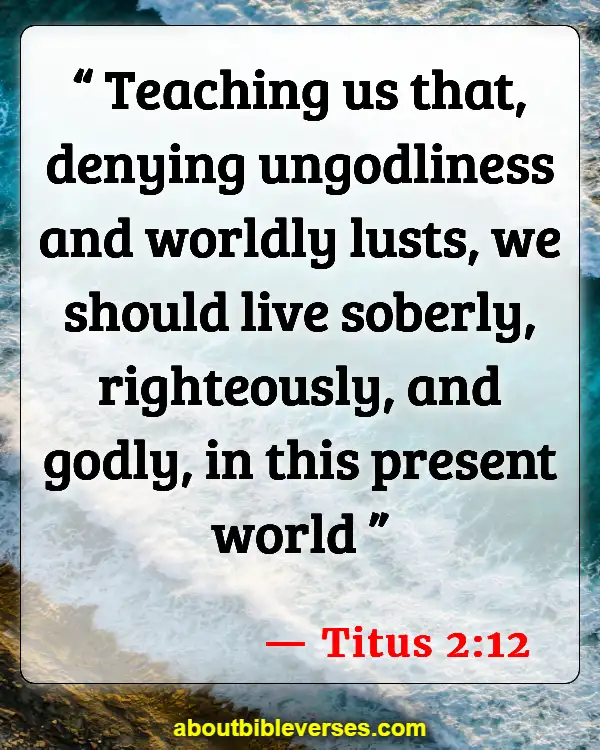 Titus 2:12
"Teaching us that, denying ungodliness and worldly lusts, we should live soberly, righteously, and godly, in this present world"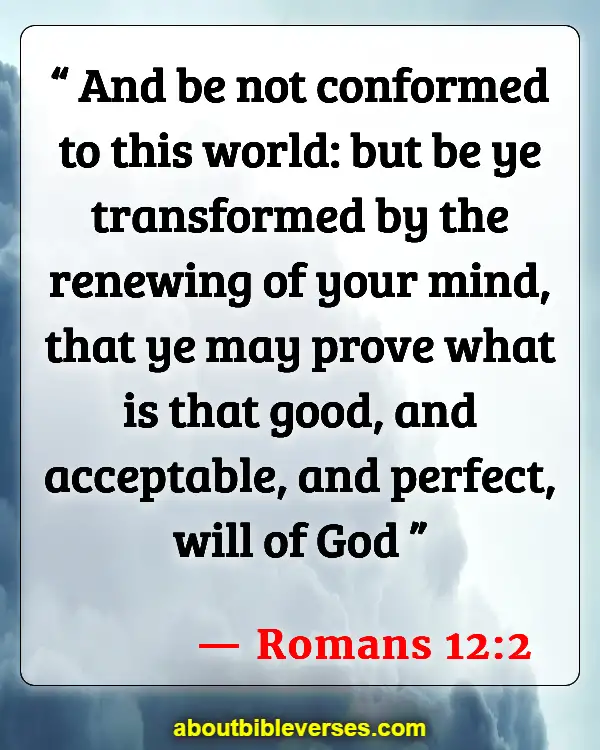 Romans 12:2
"And be not conformed to this world: but be ye transformed by the renewing of your mind, that ye may prove what is that good, and acceptable, and perfect, will of God"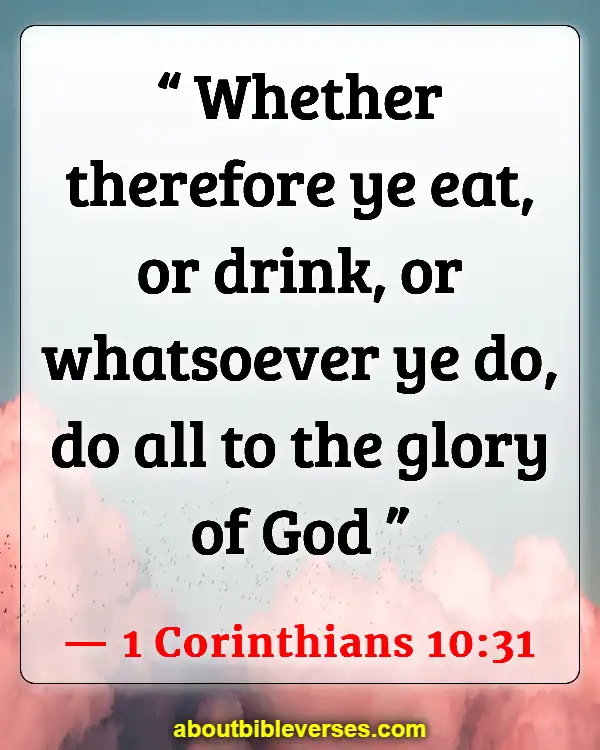 1 Corinthians 10:31
"Whether therefore ye eat, or drink, or whatsoever ye do, do all to the glory of God"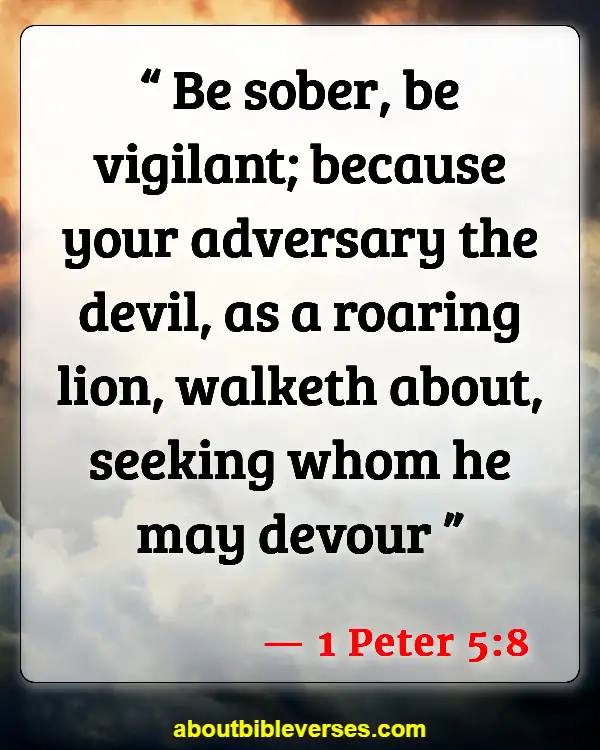 1 Peter 5:8
"Be sober, be vigilant; because your adversary the devil, as a roaring lion, walketh about, seeking whom he may devour"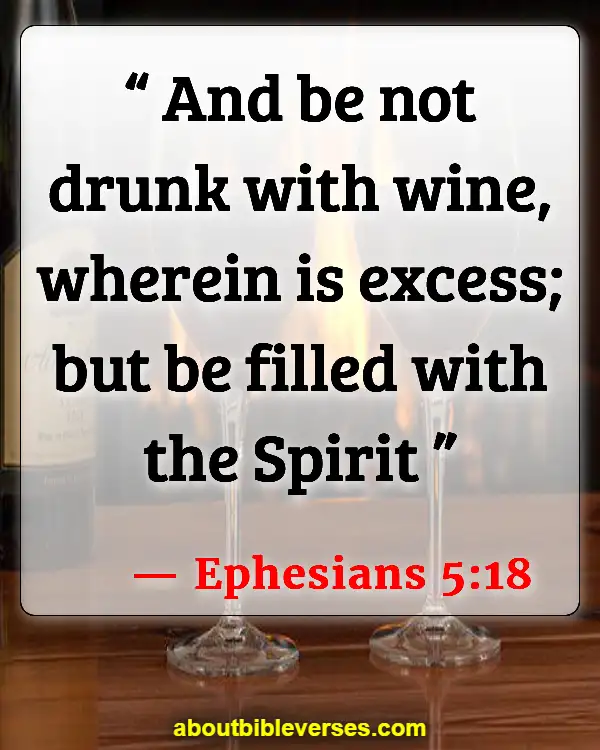 Ephesians 5:18
"And be not drunk with wine, wherein is excess; but be filled with the Spirit"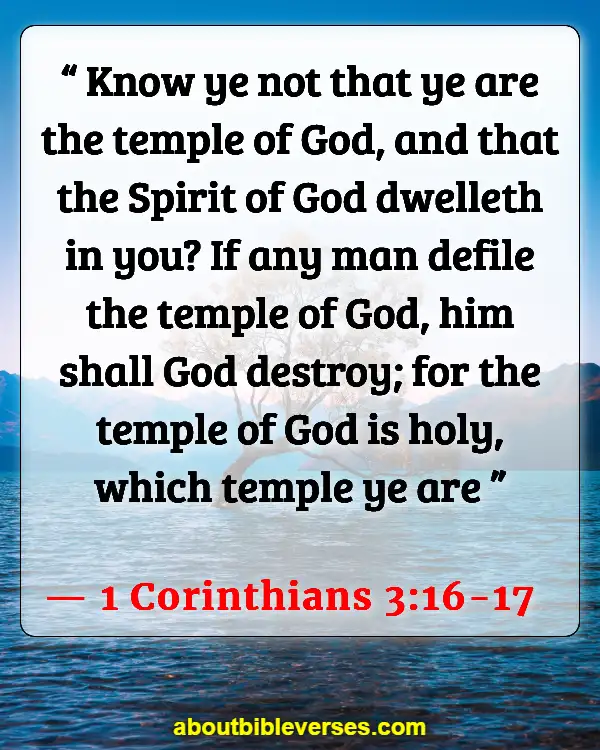 1 Corinthians 3:16-17
"Know ye not that ye are the temple of God, and that the Spirit of God dwelleth in you? If any man defile the temple of God, him shall God destroy; for the temple of God is holy, which temple ye are"
2 Corinthians 7:1
"Having therefore these promises, dearly beloved, let us cleanse ourselves from all filthiness of the flesh and spirit, perfecting holiness in the fear of God"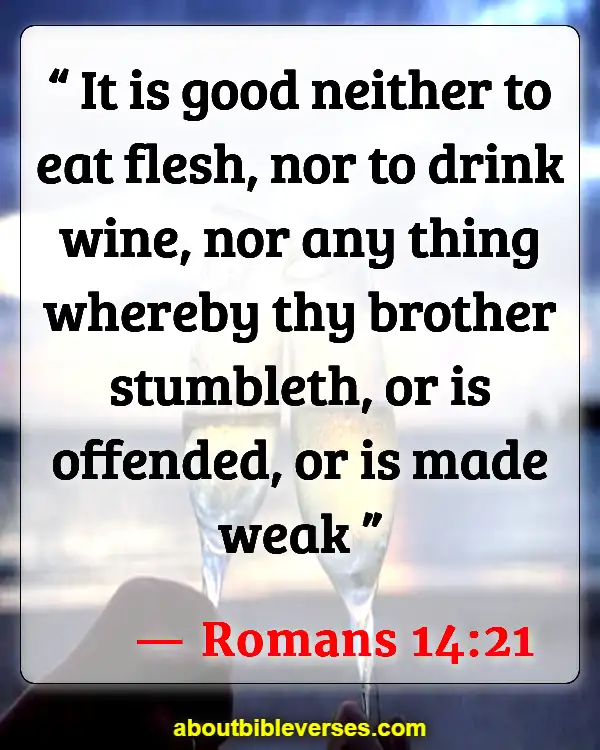 Romans 14:21
"It is good neither to eat flesh, nor to drink wine, nor any thing whereby thy brother stumbleth, or is offended, or is made weak"
1 Thessalonians 5:6
"Therefore let us not sleep, as do others; but let us watch and be sober"
1 Corinthians 6:12
"All things are lawful unto me, but all things are not expedient: all things are lawful for me, but I will not be brought under the power of any"
Romans 6:12-14
"Let not sin therefore reign in your mortal body, that ye should obey it in the lusts thereof. Neither yield ye your members as instruments of unrighteousness unto sin: but yield yourselves unto God, as those that are alive from the dead, and your members as instruments of righteousness unto God. For sin shall not have dominion over you: for ye are not under the law, but under grace"
2 Peter 1:5-8
"And beside this, giving all diligence, add to your faith virtue; and to virtue knowledge; And to knowledge temperance; and to temperance patience; and to patience godliness; And to godliness brotherly kindness; and to brotherly kindness charity. For if these things be in you, and abound, they make you that ye shall neither be barren nor unfruitful in the knowledge of our Lord Jesus Christ"
Philippians 4:8
"Finally, brethren, whatsoever things are true, whatsoever things are honest, whatsoever things are just, whatsoever things are pure, whatsoever things are lovely, whatsoever things are of good report; if there be any virtue, and if there be any praise, think on these things"
Matthew 22:37-40
"Jesus said unto him, Thou shalt love the Lord thy God with all thy heart, and with all thy soul, and with all thy mind. This is the first and great commandment. And the second is like unto it, Thou shalt love thy neighbour as thyself. On these two commandments hang all the law and the prophets"
Luke 10:27
"And he answering said, Thou shalt love the Lord thy God with all thy heart, and with all thy soul, and with all thy strength, and with all thy mind; and thy neighbour as thyself"
Romans 12:1-2
"I beseech you therefore, brethren, by the mercies of God, that ye present your bodies a living sacrifice, holy, acceptable unto God, which is your reasonable service. And be not conformed to this world: but be ye transformed by the renewing of your mind, that ye may prove what is that good, and acceptable, and perfect, will of God"
1 Thessalonians 5:22
"Abstain from all appearance of evil"
1 Corinthians 15:33
"Be not deceived: evil communications corrupt good manners"
Proverbs 22:24-25
"Make no friendship with an angry man; and with a furious man thou shalt not go: Lest thou learn his ways, and get a snare to thy soul"
Proverbs 23:20-21
"Be not among winebibbers; among riotous eaters of flesh: For the drunkard and the glutton shall come to poverty: and drowsiness shall clothe a man with rags"
Proverbs 31:4-5
"It is not for kings, O Lemuel, it is not for kings to drink wine; nor for princes strong drink: Lest they drink, and forget the law, and pervert the judgment of any of the afflicted"
Romans 13:13
"Let us walk honestly, as in the day; not in rioting and drunkenness, not in chambering and wantonness, not in strife and envying"
Ephesians 5:15
"See then that ye walk circumspectly, not as fools, but as wise"
1 Peter 2:9
"But ye are a chosen generation, a royal priesthood, an holy nation, a peculiar people; that ye should shew forth the praises of him who hath called you out of darkness into his marvellous light"
1 Peter 1:13-16
"Wherefore gird up the loins of your mind, be sober, and hope to the end for the grace that is to be brought unto you at the revelation of Jesus Christ; As obedient children, not fashioning yourselves according to the former lusts in your ignorance: But as he which hath called you is holy, so be ye holy in all manner of conversation; Because it is written, Be ye holy; for I am holy"
Psalm 119:37
"Turn away mine eyes from beholding vanity; and quicken thou me in thy way"
Ecclesiastes 9:7
"Go thy way, eat thy bread with joy, and drink thy wine with a merry heart; for God now accepteth thy works"