When Jesus has called us to be with him it means that we become his children and we have the authority to overcome this world. But the Bible says that we are human beings and God is in control of everything in between God and man the angels are also doing their jobs.
The fallen angels who are separated from the presence of the Lord are ruling this world and they are misguiding the children of God on the way to destruction.
We need to remember that the angels are created by God and they have some powers so if we neglect them then we will face many problems and will lose our hope.
We are weak and Jesus said he is our stronghold when we are in trouble. Jesus has taught us that we can get strength from him if we diligently walk with him and obey all of his teachings and apply them in our daily lives.
People around us who have not experienced the mighty hand of the Lord in life also will get to know Jesus from our lives if we live faithfully toward God.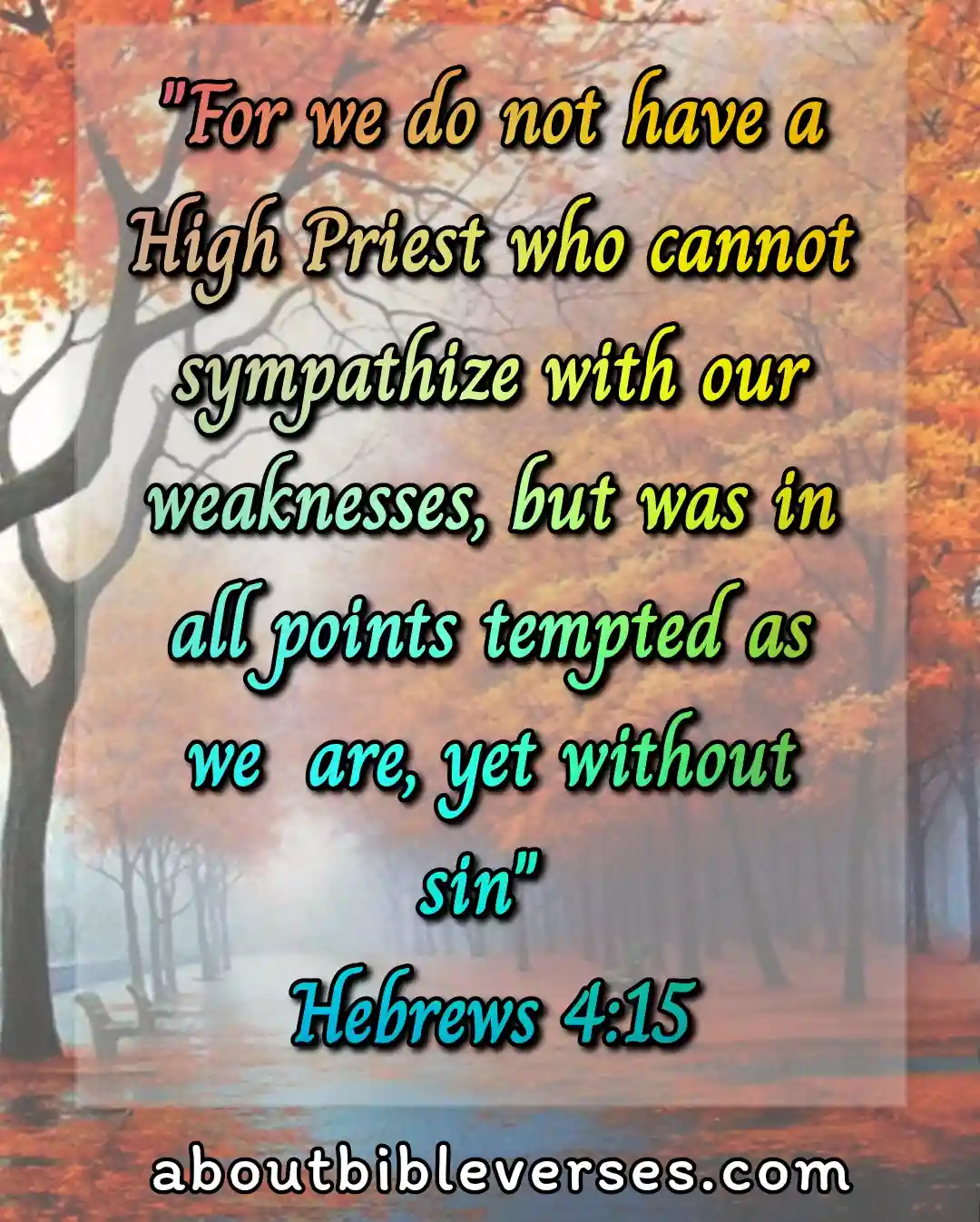 Hebrews 4:15(KJV)" For we have not an high priest which cannot be touched with the feeling of our infirmities; but was in all points tempted like as we are, yet without sin"
Explanation:- In this world, we are going to face many temptations and problems but one thing we need to remember is that we have to win this world because the Lord Jesus has left an example by winning this world.
Jesus himself was also tempted by Satan and he also defeated him by the words of God. We are also going to face many temptations in our day-to-day life but we need to remember that we can overcome them by the words of God.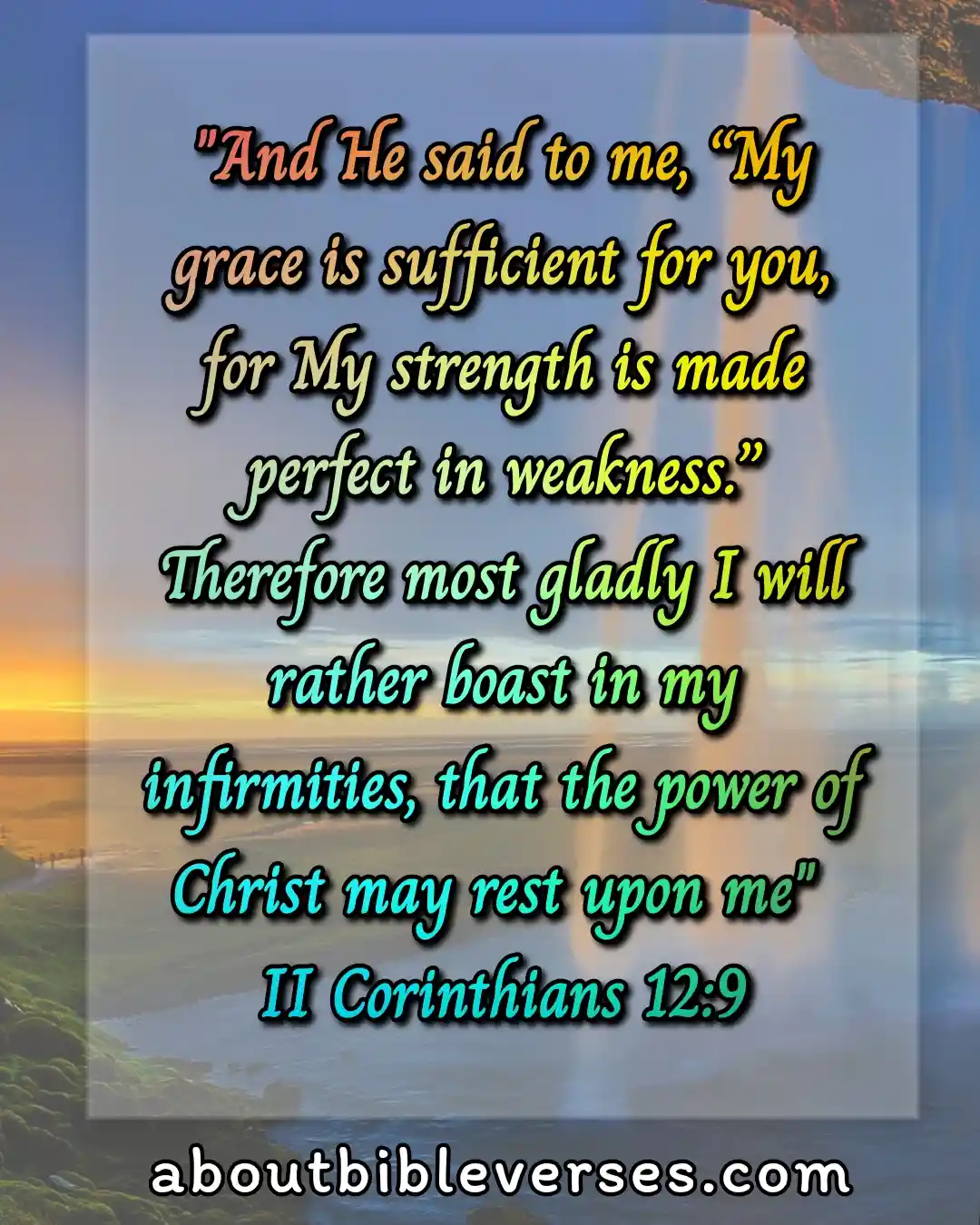 2 Corinthians 12:9(KJV)"And he said unto me, My grace is sufficient for thee: for my strength is made perfect in weakness. Most gladly therefore will I rather glory in my infirmities, that the power of Christ may rest upon me"
Explanation:- If you have some problems in our life we should inform the Lord but we must not complain against him about what we have. The Bible says that God makes us weak so that we can seek him and we can find him in our life.
His Grace is sufficient for us as he said that he will deliver us in the times of hardships and trials.
Jesus has defeated Satan on the cross and from there we can get to know that nothing is impossible with him and as he died for our sake so we are victorious in our Christian life as long as we will walk with him.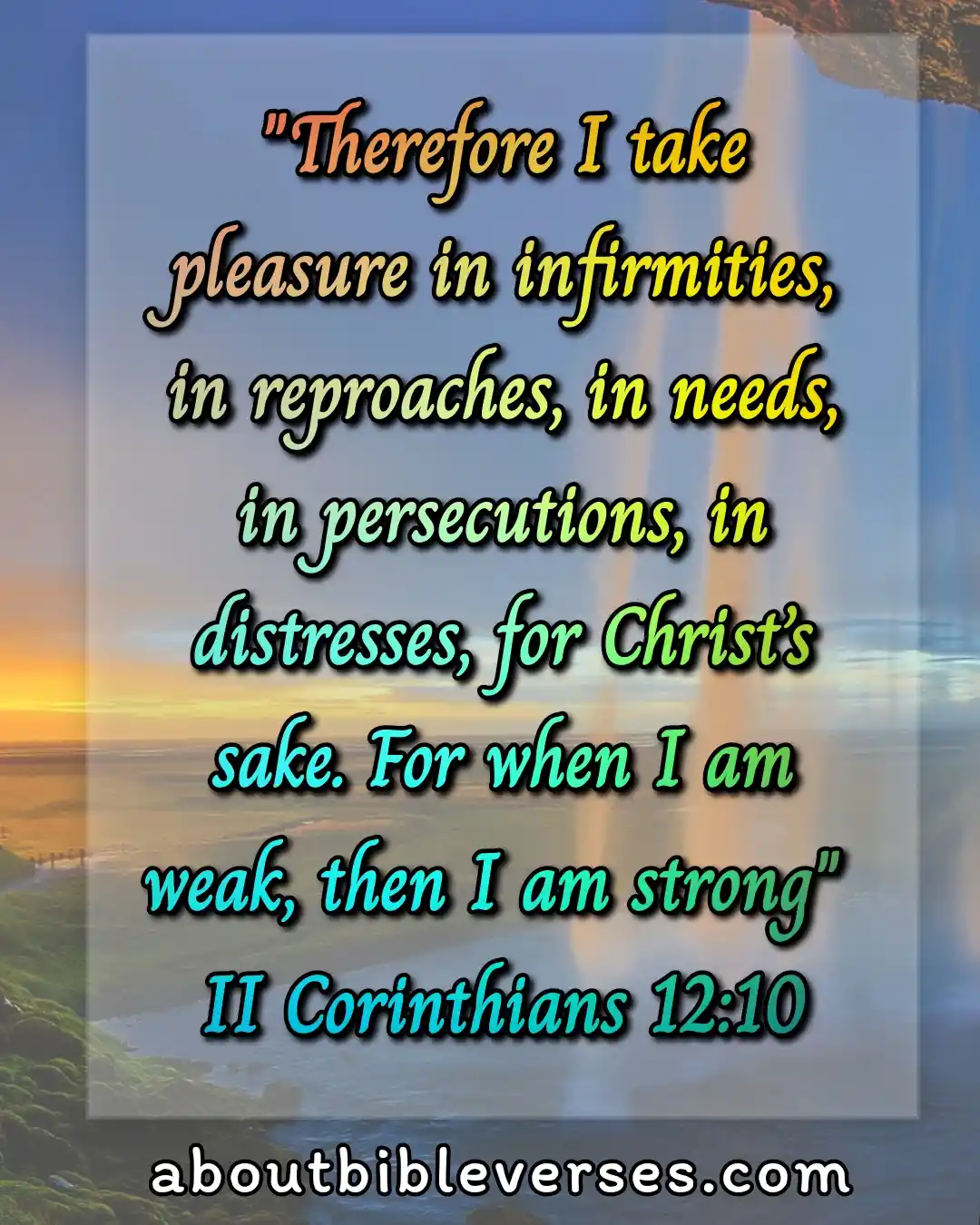 2 Corinthians 12:10(KJV)"Therefore I take pleasure in infirmities, in reproaches, in necessities, in persecutions, in distresses for Christ's sake: for when I am weak, then am I strong"
Explanation:- Paul says that he has gone through so many problems and persecutions in his life due to Christ. he has experienced many trials in his life while he went out to preach the gospel in various parts of the world. he has witnessed the mighty hand of the Lord while he found himself weekend he experienced that a lot is with us when we are in need of him.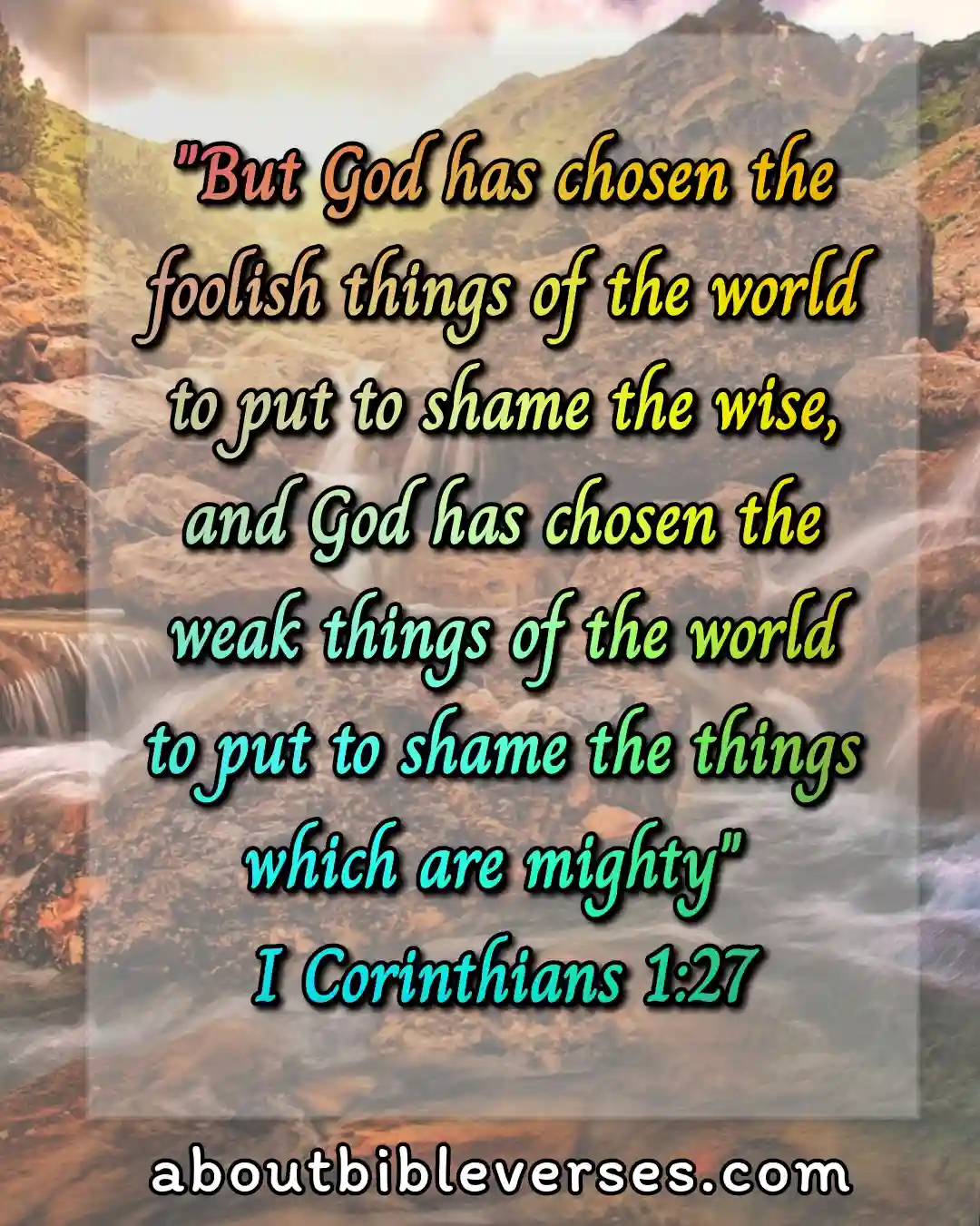 1 Corinthians 1:27(KJV)"But God hath chosen the foolish things of the world to confound the wise; and God hath chosen the weak things of the world to confound the things which are mighty"
Explanation:- The Lord has called the weak ones for his ministry so that they can seek power from him. There are so many talented people on this earth who are very good at various works such as public speaking and in some other works. but in the ministry, we can see that those who are called are weak in their skills while they come. And the Lord enables them to preach the gospel in various places. God sees our weakness and he covers it by his strength so that we can praise his name.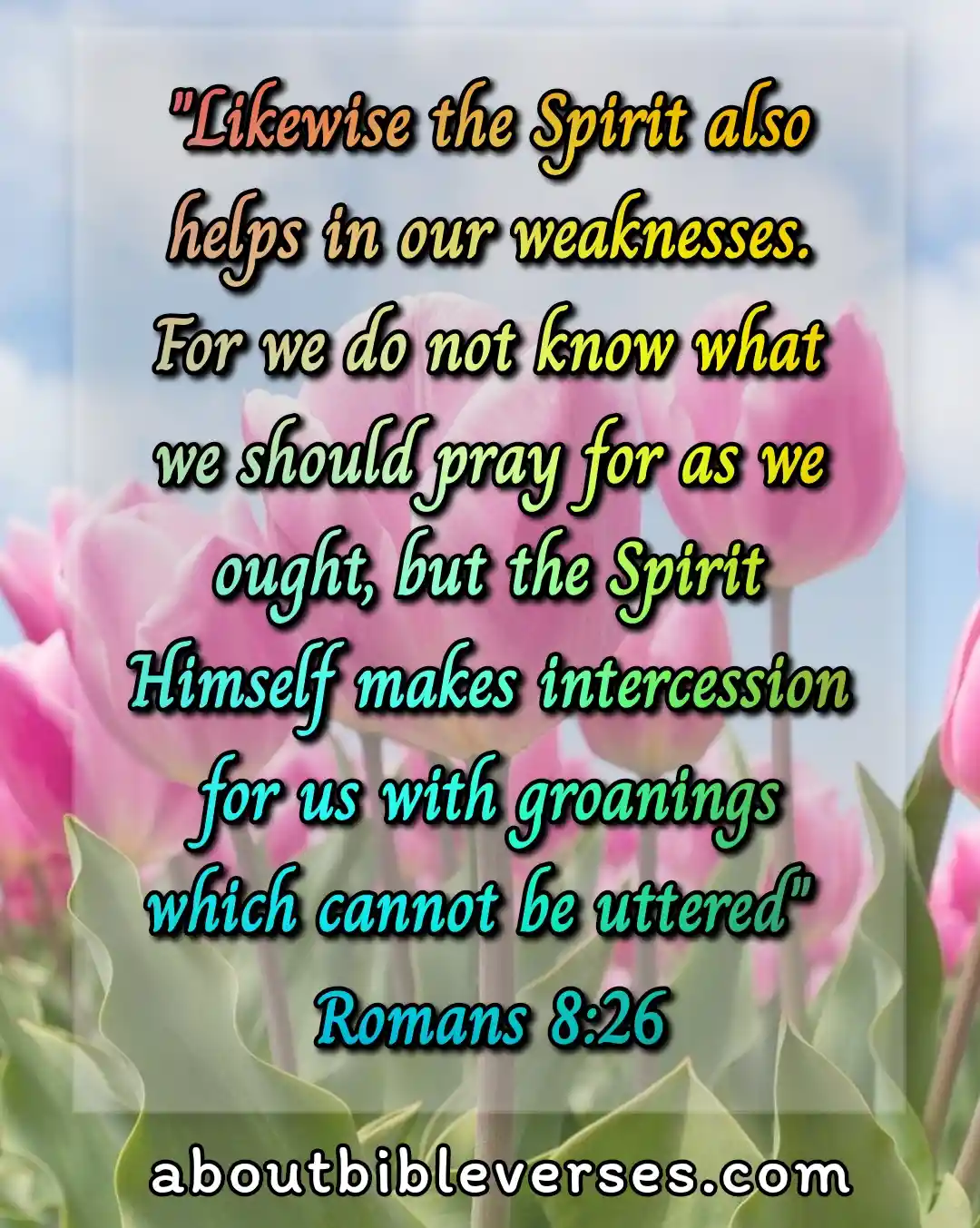 Romans 8:26(KJV)"Likewise the Spirit also helpeth our infirmities: for we know not what we should pray for as we ought: but the Spirit itself maketh intercession for us with groanings which cannot be uttered"
Explanation:- To be on this earth we need the spirit of the Lord because it will help us to seek the right thing from the Lord. Actually, we are weak and we need the strength of the Lord so that we can get what we truly need to live under the guidance of God.
Jesus also said that we need to be baptized with the Holy Spirit to enter into his Kingdom. when the spirit will come it will teach us everything which we do not. The spirit is from the Lord and it is our comforter and guide to get a peaceful life.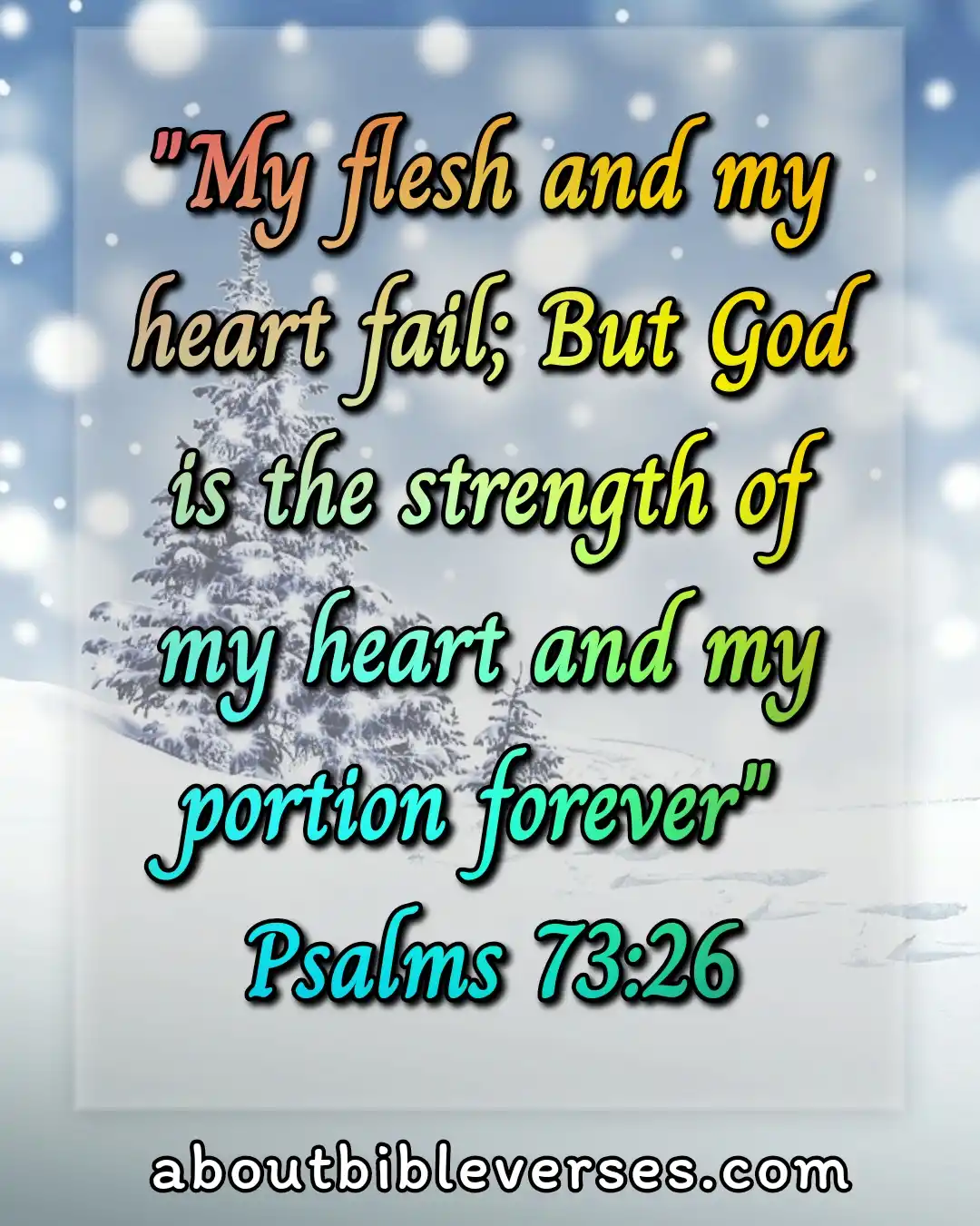 Psalm 73:26(KJV)"My flesh and my heart faileth: but God is the strength of my heart, and my portion for ever"
Explanation:- King David said that he is weak in place and he is not able to overcome all of his problems because his hearts will get faint in such times. He said that all of my heart is covered by the strength of God and he can get rid of any situation by the power of God.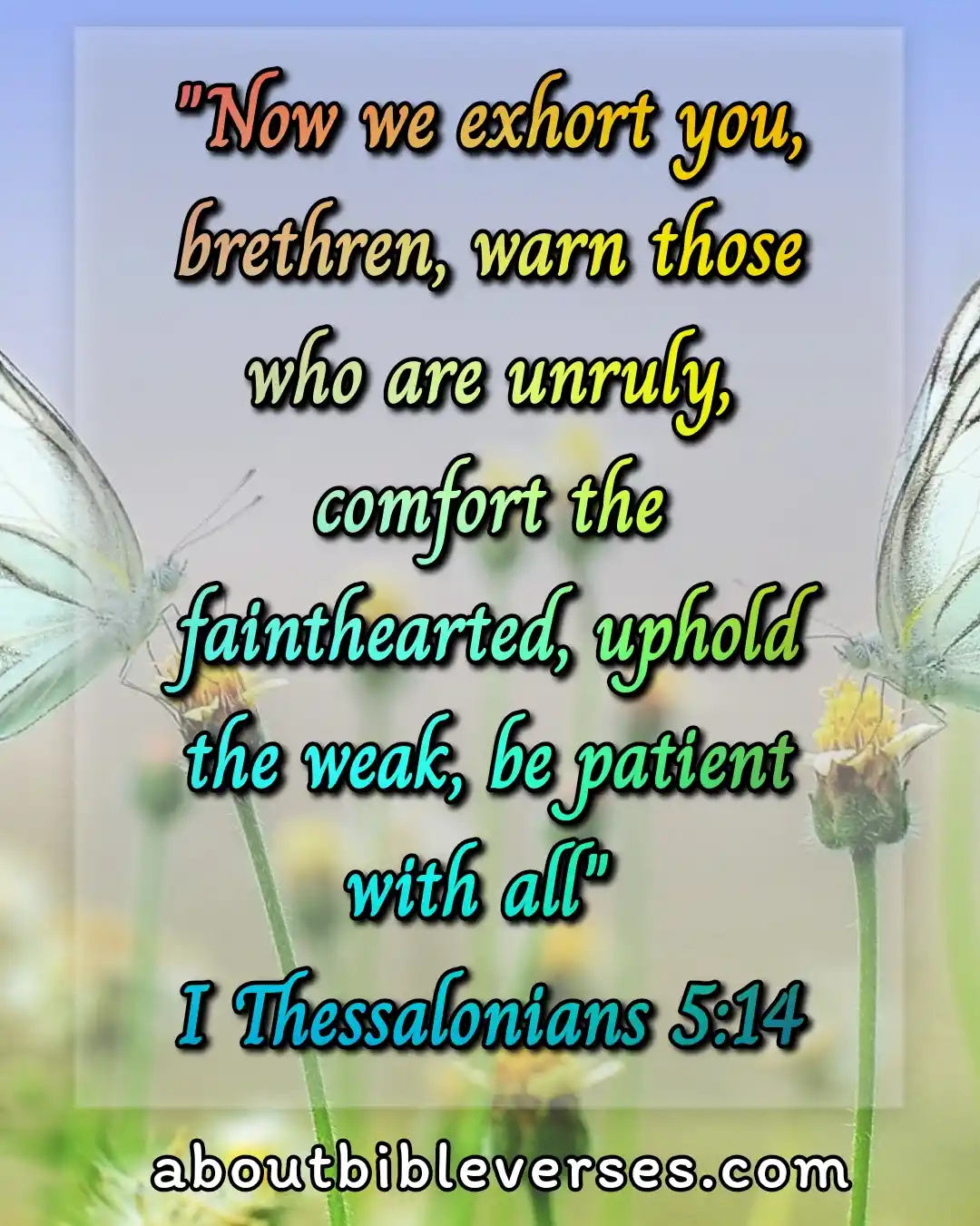 1 Thessalonians 5:14(KJV)"Now we exhort you, brethren, warn them that are unruly, comfort the feebleminded, support the weak, be patient toward all men"
Explanation:- The word of God says that we need to look towards the week and we need to help them so that they can get friends from the Lord. we must not neglect them but in order to bring them up into the light of Christ we must help them to understand the truth and we need to guide them in the path of righteousness so that they will find the real-life that is available in Christ Jesus.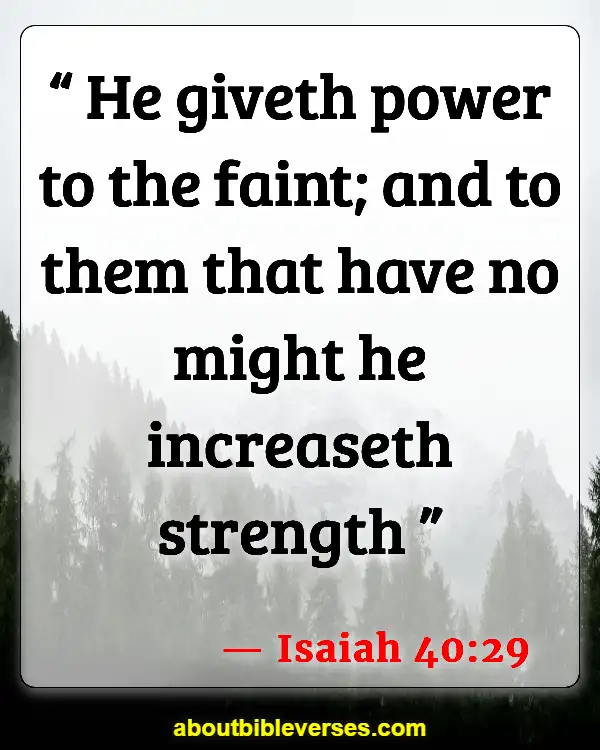 Isaiah 40:29(KJV)"He giveth power to the faint; and to them that have no might he increaseth strength"
Explanation:- We might think that we are powerful in our own perspective when we have not received Jesus in our life. we can understand that we are weak and we need strength from the Lord only when we submit all life in the hand of the Lord. because the Lord said that he will give strength to those who are weak and he will be their shelter in times of problems and trials.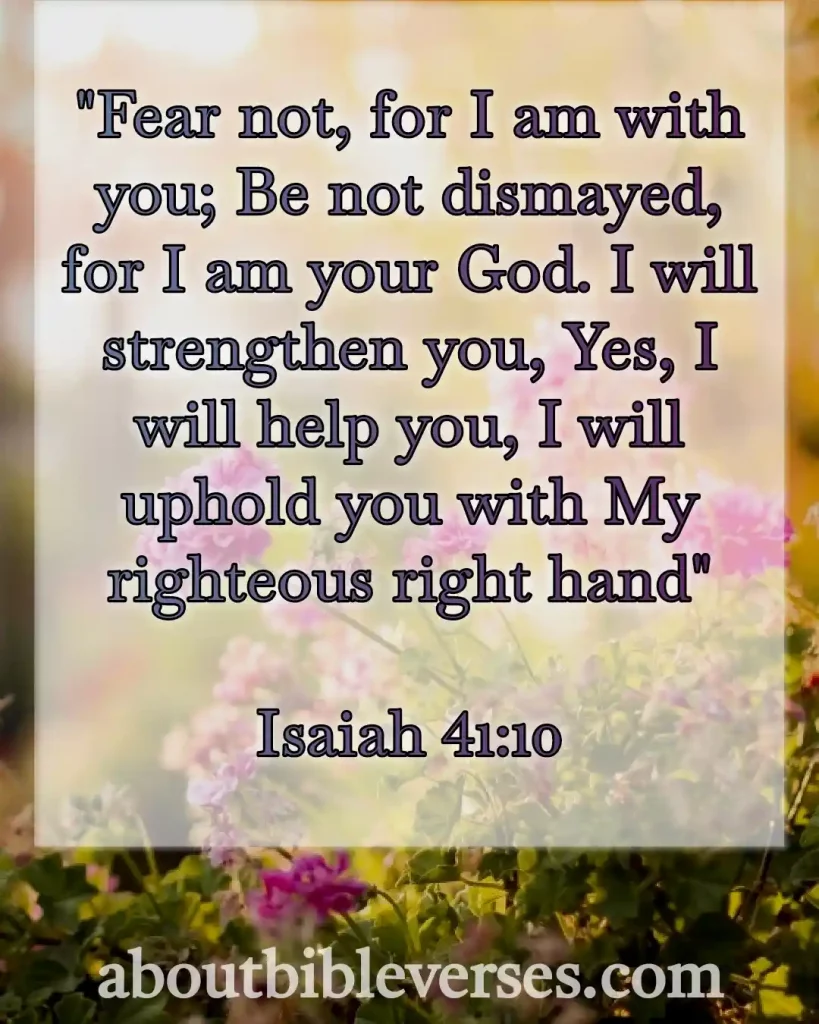 Isaiah 41:10(KJV)"Fear thou not; for I am with thee: be not dismayed; for I am thy God: I will strengthen thee; yea, I will help thee; yea, I will uphold thee with the right hand of my righteousness"
Explanation:- The Lord knows our weaknesses and he said that we should not be fair of anything but we should wear only God. we must look for his friends in our life so that we can forget our weaknesses by looking at them. There are so many things that are afraid in this world as we are the real human beings but if we see from the perspective of God then we'll see a different picture which will help us to understand the truth and lead us in a different way.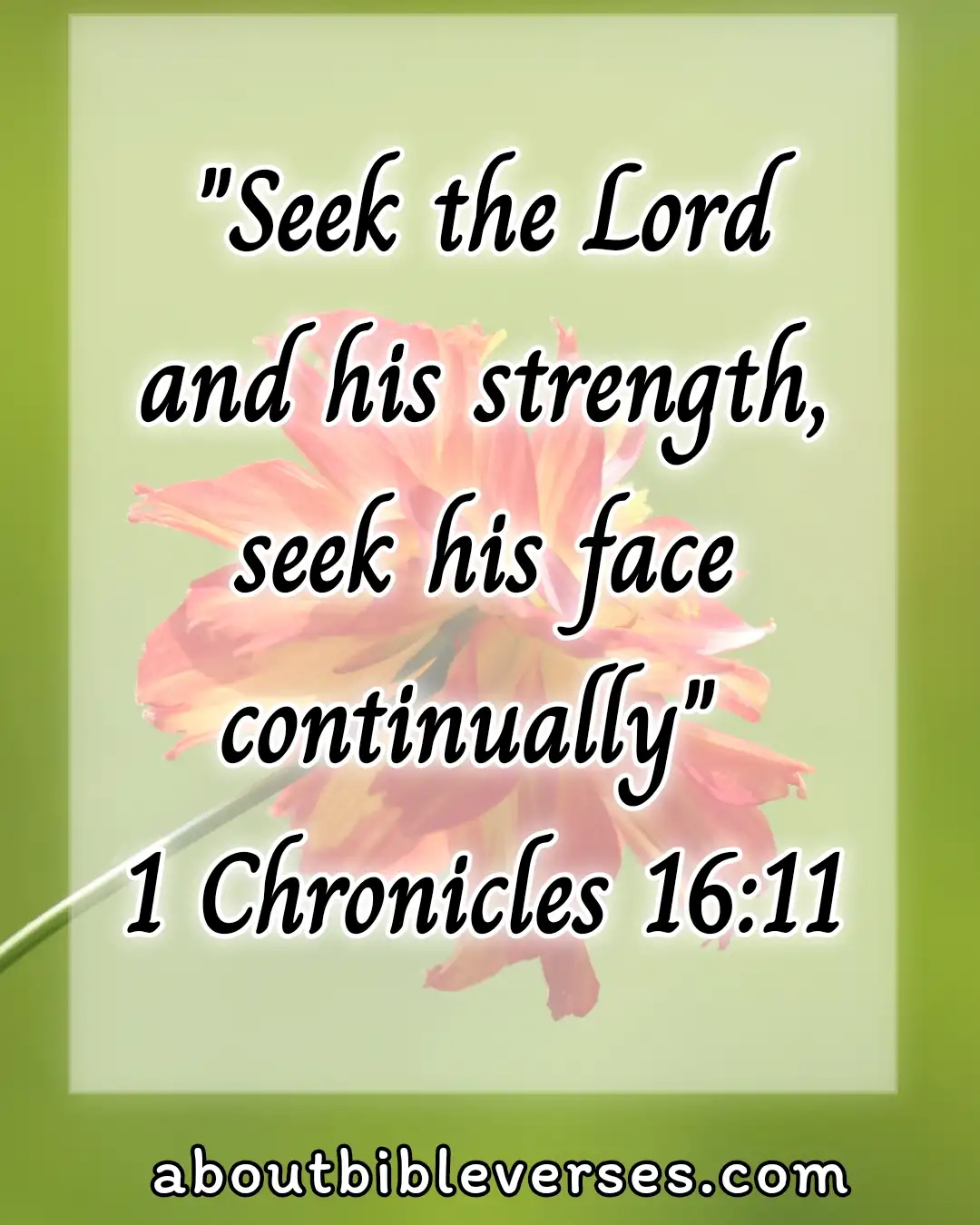 1 Chronicle 16:11(KJV)"Seek the Lord and his strength, seek his face continually"
Explanation:- Christians are called to work with the lot so that they can get rid of worldly things that can separate them from the lot. they must always seek the presence of the Lord in their life so that they can overcome all kinds of temptations that they will face in their earthly life. To be a follower of Jesus Christ is not an easy task but if there is always faith in the teachings of Jesus Christ then it would be possible to stay on the right track.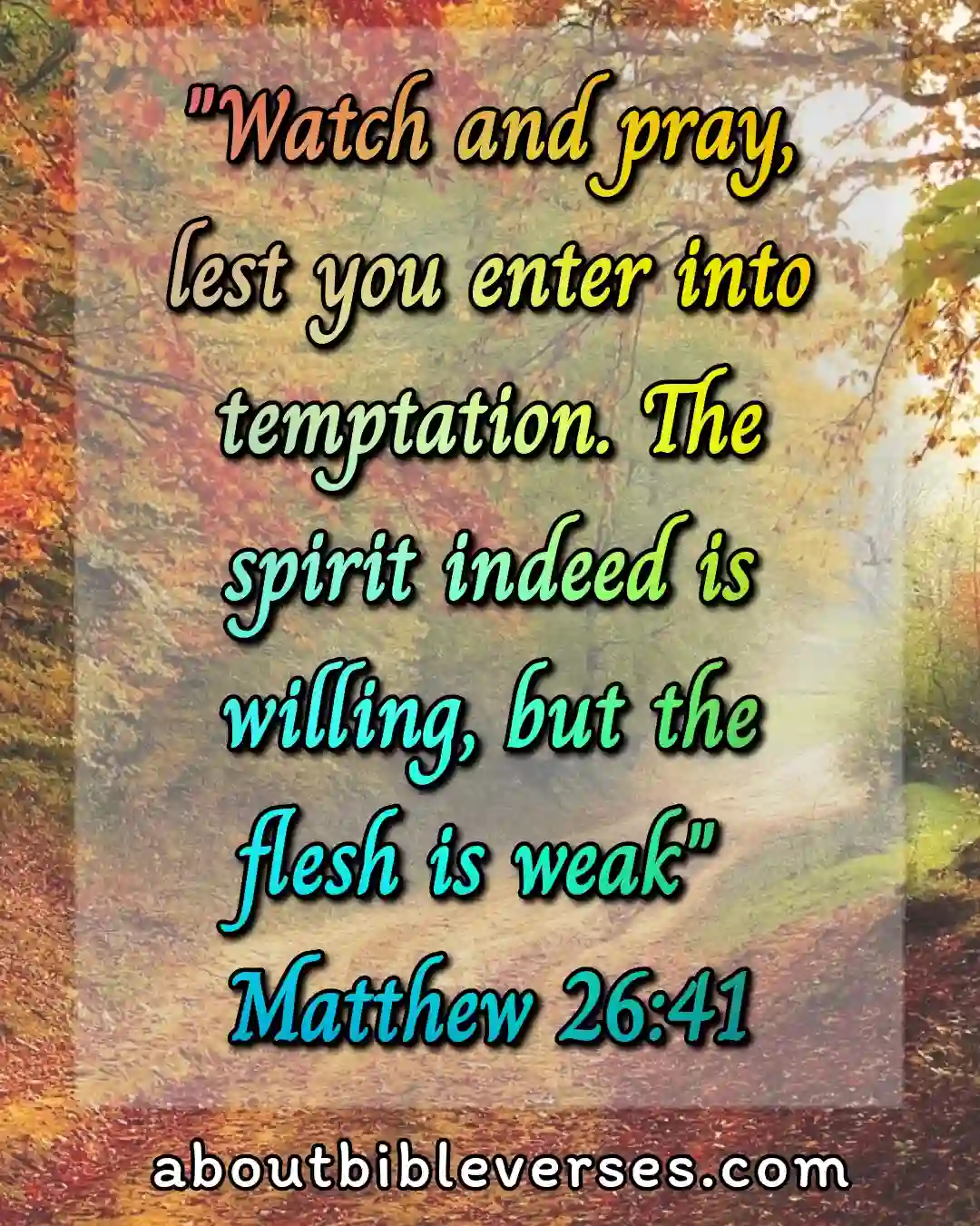 Matthew 26:41(KJV)"Watch and pray, that ye enter not into temptation: the spirit indeed is willing, but the flesh is weak"
Explanation:- From this verse what we can learn is that we have to pray continuously. We are here on this earth not permanently but to spend a short period of time here. We should not live under the bodies of worldly things but we need to get out from them and we need to run from for the righteousness of the Lord. Because our flesh is weak and we need to move forward spiritually so that we can achieve the goal by fulfilling the will of God.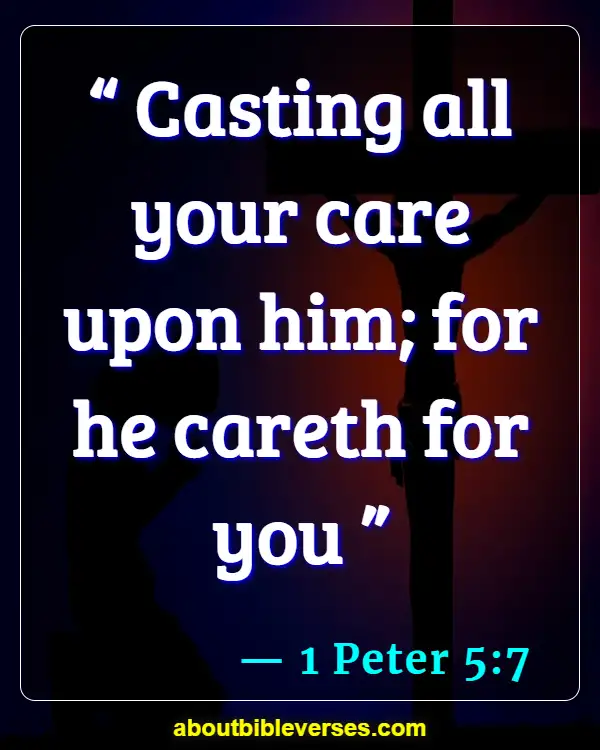 1 Peter 5:7(KJV)"Casting all your care upon him; for he careth for you"
Explanation:- The most comforting words in the Bible say that we should not think of anything that harms us. The word of God teaches us not to think anything because he is the one who thinks for us. We cannot extend our life span one hour by thinking. The best thing that we can do is that we can depend on the Lord and he will deliver us from all our problems.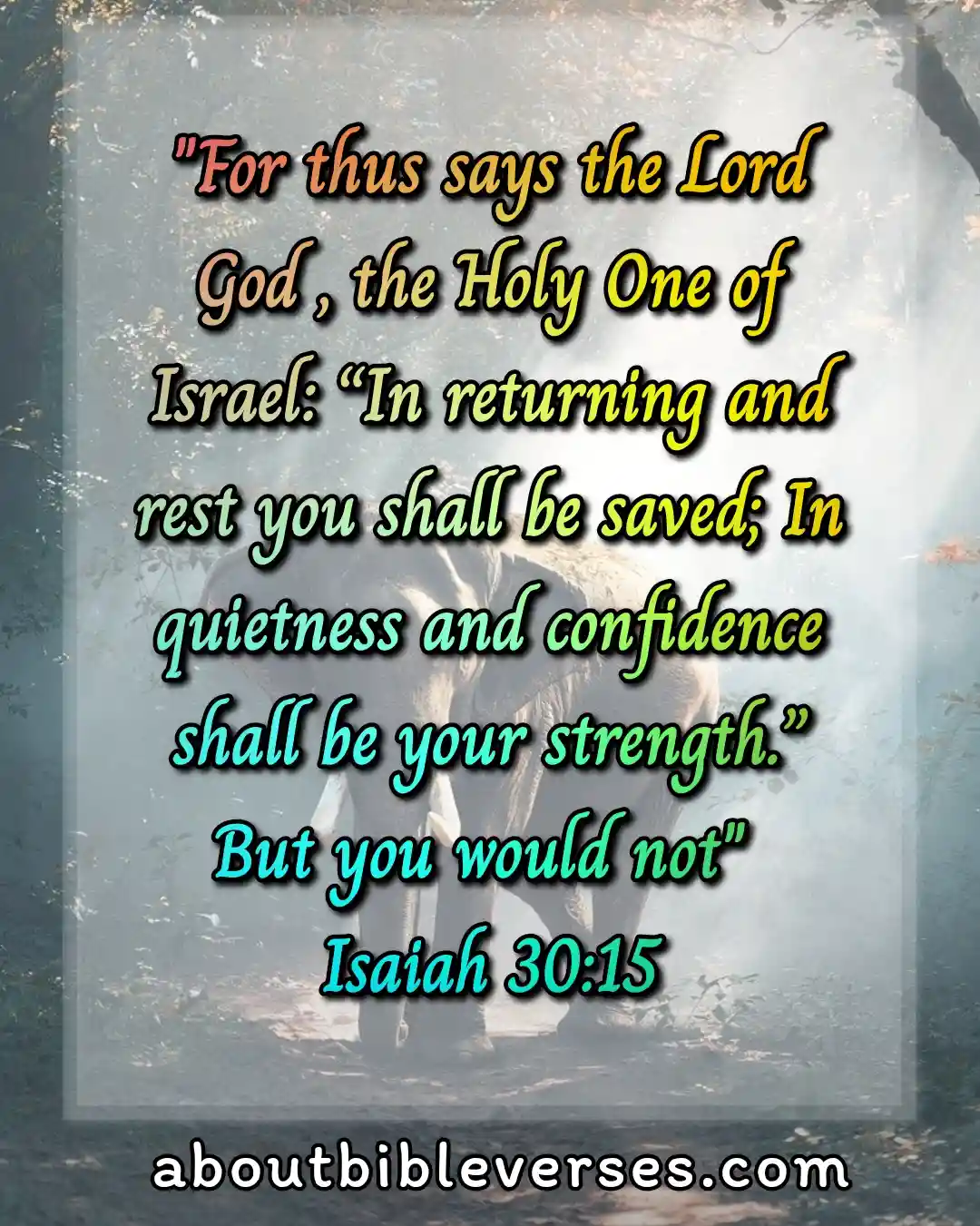 Isaiah 30:15(KJV)"For thus saith the Lord God, the Holy One of Israel; In returning and rest shall ye be saved; in quietness and in confidence shall be your strength: and ye would not"
Explanation:- The Lord is the holy one of Israel and he is a protector and provider of everything. The Lord told his people to be patient in difficult times. The children of God are called to be with him so that they can get the strength from their Lord in times of their weaknesses. They will find hope again in life if the Lord interferes in their lives.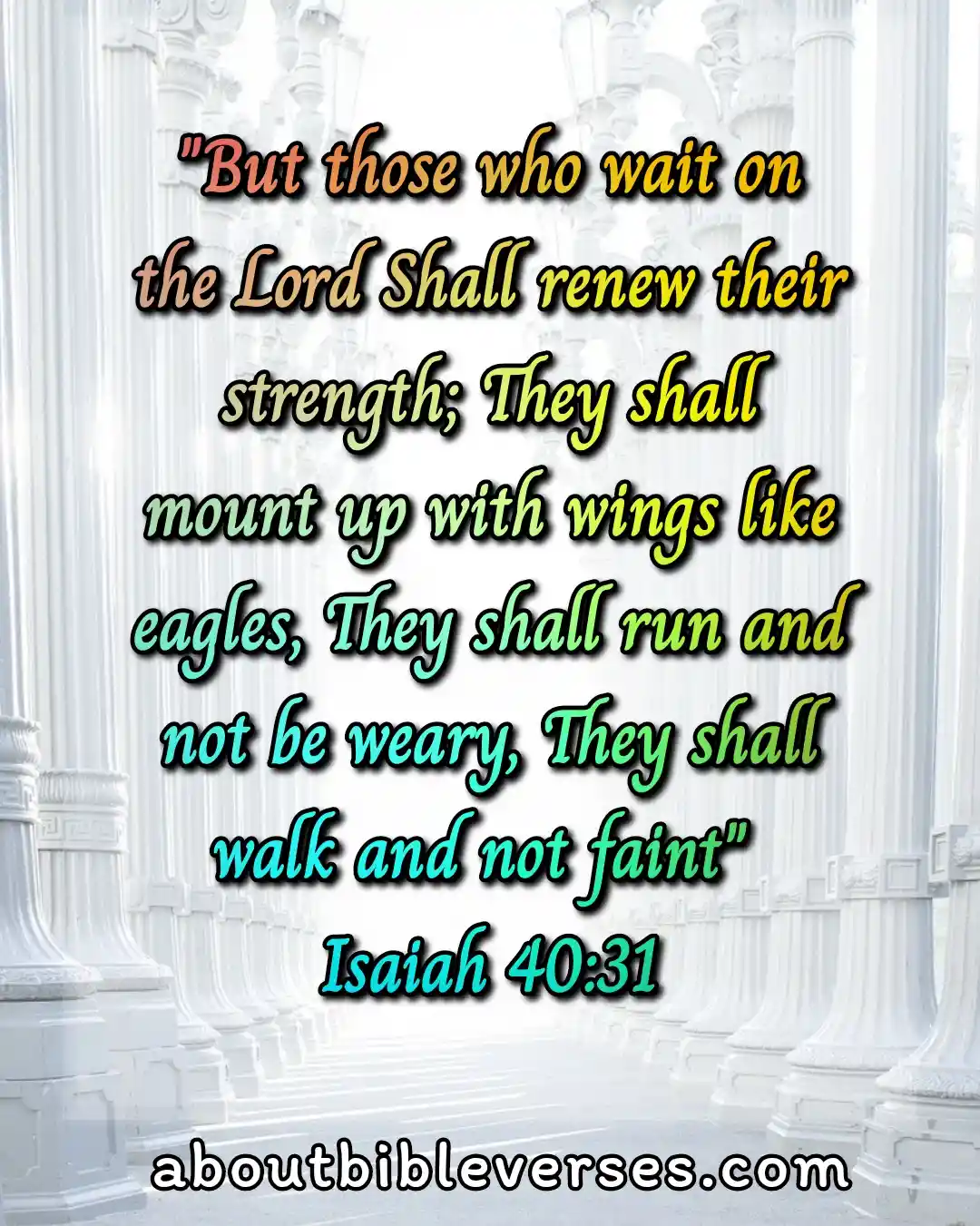 Isaiah 40:31(KJV)"But they that wait upon the Lord shall renew their strength; they shall mount up with wings as eagles; they shall run, and not be weary; and they shall walk, and not faint"
Explanation:- In our Christian life sometimes we might feel tired and we give up our faith. But the scripture encourages us to depend on the strength of the Lord. Because he will renew our strength and help us to find the way out. Those who wait upon the Lord will get stronger and will fly like an eagle. They will never be tired and they will find hope in life again by the strength of the Lord.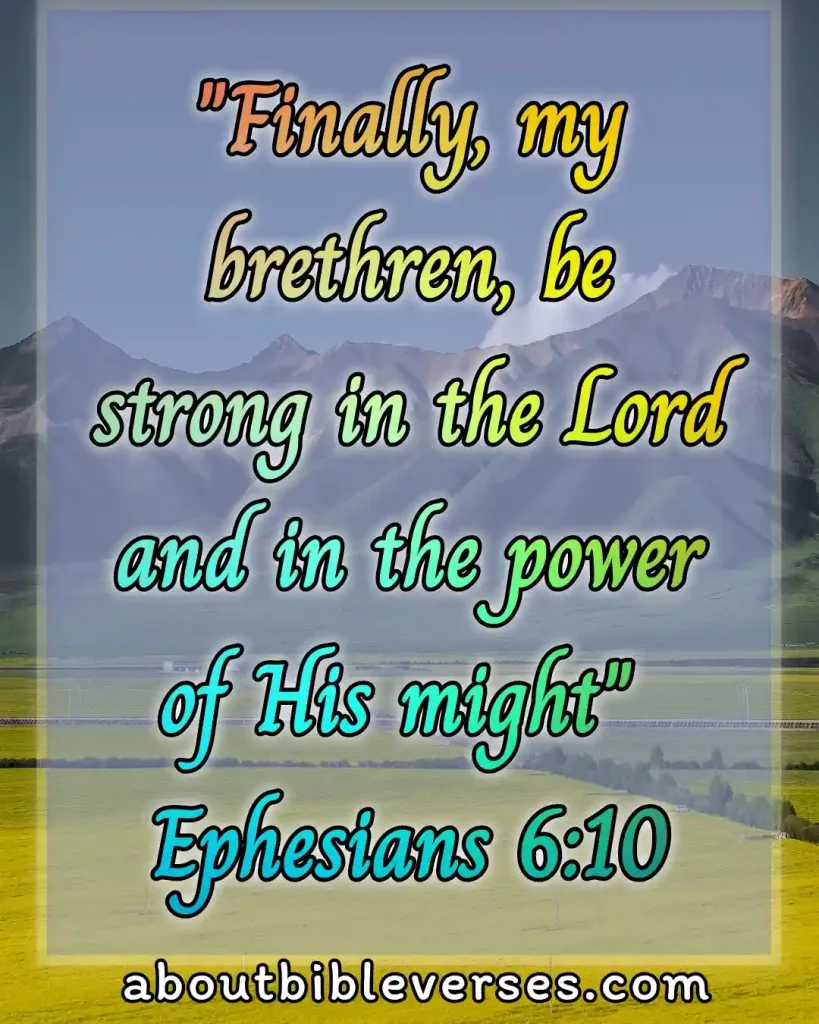 Ephesians 6:10(KJV)"Finally, my brethren, be strong in the Lord, and in the power of his might"
Explanation:- The Bible says that we are weak and we should depend on the Lord. Due to our pride nature often we avoid God and try to rely on our own strength. But God wants us to walk with him and we must praise his name as he is our strength and shelter.